Were you or a loved one injured while working, living or vacationing in New York City? You're hurt, and may be asking yourself some difficult questions, such as:
How am I going to pay for my medical expenses?
What are my legal options now?
Can I file a personal injury lawsuit?
Should I speak with an attorney?
The experienced team of New York personal injury lawyers at Banville Law have been helping accident victims like you for decades. Call us now to learn about your legal options and how we can help you obtain the compensation you deserve.
Free Personal Injury Consult
Our local personal injury attorneys are known for fighting for our clients and their legal rights. We are dedicated to getting just compensation for the injured accident victims that we represent.
— Laurence Banville
"So Grateful" "Banville Law was there for my family and I when we needed them most."
Banville Law Reviewed by James O., on Dec 21st, 2017.
Banville Law is a New York personal injury law firm with local offices conveniently located throughout New York City. We represent injured accident victims all over New York City from our offices in Manhattan, including clients located in:
Manhattan, NY
Queens, NY
Brooklyn, NY
Bronx, NY
Staten Island, NY
Long Island, NY
Need A Personal Injury Attorney In Manhattan? Trust The Accident Lawyers At Banville Law.
Award-winning Law Firm Experienced In All Injury Cases

Nominated For "Best Legal Services" By Legal Herald

Free Attorney Consultations For New York Accident Victims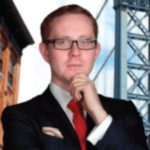 Finding the right attorney in Manhattan can seem impossible. It can be especially difficult when you're looking for the best personal injury lawyer to represent you or a loved one after a serious accident. The legal team at Banville Law has been successfully representing accident and injury victims in New York City for decades. We've helped many of our former clients win multi-million dollar settlements and verdicts. When it comes to personal injury law, our team of attorneys have experience across the board in every type of case, including car accident claims, premises liability cases, and wrongful death lawsuits.
If you are in search of trusted legal services in Manhattan, you've come to the right place. Call our local offices today to receive a free case evaluation and speak with a qualified personal injury attorney about your legal options.
The Attorneys at Banville Law Want To Help
Lawyer – Legal Help After A Serious Injury
Law Firm – A Team Of Attorneys Dedicated To Your Success
Injured In A Slip and Fall Accident? Our Premises Liability Lawyers Hold Negligent Property Owners Responsible
Affordable Legal Representation For Slip, Trip and Fall Victims

Proven Results In Obtaining Compensation For Injured Clients

Local Attorneys With Experience In Premises Liability Lawsuits
Did you or a loved one suffer an injury after slipping and falling on a wet floor? Did you trip and fall on a hazardous object in a store? You may be entitled to financial compensation for the damages that you've incurred.
The slip and fall lawyers at Banville Law have successfully won several substantial premises liability lawsuits against negligent landlords and property owners. Our legal team is known for aggressively pursuing justice for our injured clients and ensuring that no stone is left un-turned when it comes to premises liability.
Many slip and fall accidents are thought of as insignificant incidents, but that could not be further from the truth. A slip and fall can lead to serious injuries with devastating consequences. Many of the clients we represent call our law firm because they do not know how to handle the expensive medical bills and lost wages that they are left dealing with after an injury.
Trial Attorney – Defending Your Legal Rights In The Court Of Law
Injured In An Auto Accident? Our Trusted Car Accident Lawyers Fight Big Insurance Companies
 Experienced In All Auto Accident Lawsuits Including Car, Bus, Truck & Taxi Cases

Local Law Firm Holding Big Insurance Companies To Their Word In Negligence Claims

Millions Won In Verdicts & Settlements For Injured Auto Accident Victims
Were you or a loved one injured in an auto accident in New York? Are you a victim of a taxi accident in Manhattan?
You may be eligible for compensation for the physical, emotional and financial damages that you've suffered.
Our car accident attorneys in Manhattan have helped injured victims in a wide variety of auto accident cases. We've handled multi-million dollar lawsuits involving trucks, buses, taxi cabs, bicycles and more.
The State of New York has a "no-fault" insurance system for auto accidents, which often discourages injured drivers from seeking legal help after being injured in a car crash. However, there are other legal options available for victims who have been seriously injured in an auto accident.
The legal team at Banville Law is dedicated to handling car accident claims in the State of New York. We work tirelessly for our clients in order to hold the big insurance companies responsible for their end of the bargain and get our clients the compensation that they deserve.
Contact our law firm today for a free auto accident case evaluation with one of our local attorneys. We are here to help you explore your legal options and pursue the justice that you deserve after being injured in a serious crash.
Elder Law Attorney – Fighting Abuse & Neglect In New York
Our Lawyers Get Justice For Victims Of Elder Abuse & Neglect In Nursing Homes & Assisted Living Facilities
Recognized Among The Top Nursing Home Abuse Attorneys In Manhattan

Trusted Law Firm Representing Victims Of Neglect In Elderly Facilities

Local Elder Abuse Attorneys Pursuing The Best Legal Options
Are you or a loved one a victim of nursing home abuse and neglect? Elder abuse is too common in New York facilities and the responsible parties need to be held accountable for their actions.
Banville Law is proud to be consistently recognized among the best nursing home lawyers in New York. Our team of elder abuse attorneys have represented elder victims in lawsuits involving elder abuse and neglect in nursing homes as well as assisted living facilities.
We've won multi-million dollar verdicts and settlements for victims of elder abuse and neglect. As a full-service elder abuse law firm, we hold facilities and healthcare providers responsible for all cases of negligence in nursing homes including those involving:
Bed Sores
Medication Errors
Pressure Ulcers
Fall Down Accidents
Physical & Sexual Assault
Malicious Behavior
Wrongful Death
If you know someone who has been abused or neglected you can call our elderly abuse lawyers in Manhattan for a free consultation.
General Practice Attorney – Your New York Lawyers
Defective Liability, Crime Victim, Negligent Security Or Wrongful Death? We Do All Personal Injury Lawsuits
Trustworthy Lawyers Getting Justice For Victims Of Sexual Assault, Sex Abuse & Rape

Reliable Accident & Injury Attorneys Providing Top Legal Services

Affordable Law Firm Obtaining Compensation For Clients In Manhattan, NY
When searching for the best law firm to represent you in a court of law you must consider the experience and qualifications of the attorneys at that law firm. At Banville Law you can trust our experienced lawyers to provide you with exceptional legal representation in all personal injury matters.
Our team of highly qualified trial attorneys are equipped with extensive knowledge in all personal injury practice areas and have experience representing clients in every type of personal injury litigation, including:
 Crime Victim Lawsuits
Sexual Assault & Rape Cases
Negligent Security Claims
Wrongful Death Lawsuits
Dog Bite Litigation
Asbestos & Mesothelioma Cases
Defective Product Lawsuits
General Injury Litigation
Mass Tort Claims
and more.
The list of practice areas above is just a small fraction of the personal injury lawsuits that our lawyers handle in New York. You can contact our office in Manhattan today for a free consultation with a lawyer to learn about all of our practice areas and how we can help you.
Examples Of Why New Yorkers Search For "Personal Injury Lawyers Near Me"
Midtown Manhattan, NY 10001 – Woman Slips On Wet Floor In High Rise Apartment Complex
A 52-year-old woman was injured after slipping and falling on a wet floor in the lobby of an apartment complex where she lives in Midtown Manhattan. The woman suffered a broken ankle and head trauma due to the fall, which was caused by snow melt that was left on the floor. Security camera footage from the building showed that there was more than enough time for the building management to become aware of the hazardous conditions and clean up the liquid in order to prevent the fall.
Upper West Side, NY 10023 – Woman Sexually Assaulted In While Jogging In Central Park
A 36-year-old woman was sexually assaulted while jogging through Manhattan's Central Park at night. The woman was attacked by a man and held at knifepoint while jogging along West Drive near the lake in Central Park.
East Village, NY 10003 – Man Injured In Hit-and-run Car Accident In Lower Manhattan
A 43-year-old man suffered serious back and neck injuries when his car was rear-ended at an intersection in the East Village section of Lower Manhattan. The victim was stopped at a red light at the intersection of East Houston Street and Bowery when a large SUV crashed into the back of his car at high speed. The driver of the SUV fled the scene of the car accident but police eventually caught up with him at the intersection of West Houston Street and 6th Avenue near Washington Square Park.
Harlem, NY 10027 – Construction Worker Suffers Permanent Injuries After Falling From Scaffolding On Job Site
A 28-year-old construction worker suffered permanent spinal cord damage and other serious injuries after falling from scaffolding on a job site in Harlem, NY. The construction site was located on Dr. Martin Luther King Jr. Boulevard near the intersection of Broadway where a new high rise apartment complex was being built. The young construction worker was working on scaffolding on the exterior section of the building when he fell. He was rushed to a nearby hospital in Upper Manhattan to be treated for his injuries.
Contact A Personal Injury Lawyer In New York City
Injured in an accident in Manhattan or another part of New York City? You may not have to pay for medical expenses and lost wages out of pocket. Instead, consider pursuing justice in a personal injury lawsuit.
Contact the Manhattan personal injury attorneys at Banville Law today to schedule a free consultation. If we can help you, our lawyers will do everything in our power to build a successful case. And we always provide our legal services on a contingency-fee basis, which means that you owe us nothing unless we return a favorable verdict or settlement in your case. To review your legal options, call Banville Law now.
Our Social Media Profiles:
Latest Personal Injury News Updates In Manhattan
By
Laurence P. Banville
Unfortunately, personal injury accidents are very common in the city of New York. The following section includes the latest news stories related to personal injury accidents and lawsuits in Manhattan.
August 1st, 2019 – One Injured In Manhattan Crash
On July 31st, 2019, police officers were called to the scene of an accident at the 2700 block of Anderson Ave. The accident involved a car and a motorcycle. One person was taken to a local hospital to have their injuries treated. The police have not identified the victim.
May 3rd, 2019 – Driver Leaves Scene 1st Accident Only To Cause 2nd Fatal Accident
The NYPD has arrested a driver who could have prevented a death if she had just stopped for the first accident she caused. The 25-year-old driver caused a minor accident at around 1 a.m. but instead of stopping, left the scene. Just a few minutes later she slammed into an MTA construction truck. She had to be rushed to the hospital in critical condition. Her passenger did not survive.
April 4th, 2010 – Sears Will Face Defective Product Lawsuit
In 2011, a 21-year-old senior at the University of Connecticut was working on a BMW sedan in his family garage when the worst happened. The car fell, crushing him and killing him. No one else was home at the time of the accident. Now his parents are suing Sears, alleging that the Sears jack stand their son was using while he performed an oil change was defective and collapsed, pinning him under the vehicle. Sears has denied the allegations, claiming there is no proof that the jack was defective.
March 6th, 2019 – Nine Workers Treated For Carbon Monoxide Exposure
Nine people who were working to pour concrete in the basement of a construction site were hospitalized and treated for carbon monoxide poisoning. The FDNY was called to the scene because a worker reported feeling extremely dizzy and sick to their stomach. Readings of the area showed 750 parts per million of carbon monoxide – much higher than the 10 parts per million that is considered dangerous.
February 5th, 2019 – Former New York Police Officer Sentenced To 15 Years
A man who once served as a New York City police officer will now spend the next 15 year behind bars. The sentencing came after he was found guilty of killing a 21-year-old pedestrian in 2016 while driving drunk. The accident also injured 3 others. The accident report indicates that the former officer was behind the wheel of his SUV when he jumped the curb and hit the four individuals. When tested, his blood alcohol level was three times the legal limit.
January 10th, 2019 – Man Arrested After Fiery Crash In Manhattan
A Maryland resident has been arrested and charged with leaving the scene of an accident and manslaughter. The 37-year-old man was driving an Audi when he crashed into a Honda, causing the other car to flip and burst into flames. The accident caused a 57-year-old woman in the other vehicle to die. The driver of the Audi attempted to flee but was quickly apprehended.
December 6th, 2018 – Columnist Awarded $85 Million After Bus Accident
A columnist for the New York Times who was seriously injured when he was run over by a double-decker bus has been awarded $85 million. He was using the crosswalk at the time of the accident when he was hit. The bus went over his body, dragging him down the street before finally coming to a stop. He has had to undergo 11 surgeries in three years and continues to suffer from chronic pain. He has to walk with a brace.
November 9th, 2018 – Man Dies When Shirt Gets Caught In Escalator
A man riding a New York subway station escalator has died. According to police officers who closely reviewed surveillance video, the victim's shirt became caught in the escalator. He struggled to remove the shirt from both his body and the escalator but was unable too. The shirt became entangled around his throat and he was strangled. Police arrived and cut him free but were unable to revive him.
October 8th, 2018 – Limo Crash Kills 20 People
On Sunday, October 7th, 2018, one of the deadliest auto crashes in U.S. history claimed the lives of 20 people. State police say that a limo, carrying 17 passengers and the driver blew through an intersection, struck two pedestrians, and crashed into the forest beyond the intersection. None of the victims survived the accident. Governor Cuomo launched an immediate investigation and within 24 hours of the fatal crash, investigators determined that the limo had failed its previous inspection and that the driver wasn't properly licensed. The limo company has been ordered to shut down until the investigation is complete.
September 11th, 2018 – Three People Hurt In SUV Crash
Three people were injured in Manhattan when a car and SUV collided, causing the SUV to jump the curb and hit a light pole and trash can. The trash can went flying through the air where it struck a female pedestrian who sustained injuries from the impact. The pedestrian and both drivers were injured and taken to the hospital for treatment. However, both drivers were arrested after being released from medical care for driving on a suspended license.
August 7th, 2018 – Head-On Collision Kills Taxi Passenger
An allegedly drunk driver drifted into oncoming traffic while on the Belt Parkway and slammed into a cab. Although both drivers survived the collision, the passenger in the back of the cab, a 27-year-old man, died at the scene of the accident. The drunk driver is now facing multiple charges including manslaughter, vehicular manslaughter, and DWI.
July 6th, 2018 – Crane Accident Injures Three
Three construction workers were injured when a mini crane rolled over while employees were using it to install a curtainwall. One worker was treated for his injuries and released, however, two sustained serious injuries and were hospitalized. The Department of Buildings is investigating the accident and have issued a stop work order at the site.
June 4th, 2018 – Security Guard Killed By Falling Glass
While installing glass panels on the side of a NYC skyscraper a team of construction workers lost control of the glass which fell over the side of the building. At the same moment, a security guard was walking below and he was struck by the panel. Although he survived the initial blow, he was later pronounced dead at the hospital. A second worker, a 27-year-old man was also injured. The Department of Buildings has begun an investigation into the accident.
May 9th, 2018 – Bus Crash Injures Dozens
Six people were seriously injured and thirty-seven people sustained minor injuries when a bus carrying teenagers returning from a spring break trip crashed into a bridge overpass, completely destroying the top of the bus. Firefighters did need to extricate one passenger from the wreckage and witnesses noted that the top of the bus was so damaged that the tops of the seats could be seen.
April 5th, 2018 – Subway Worker Killed In Fall
A 23-year-old man died from head trauma after he fell in a subway tunnel while working. At the time of his fall he was working alone and it was some time before he was found. Although he was still alive, after being rushed to the hospital he succumbed to his injuries.
March 14, 2018 –  Postal Workers Exposed To Hazardous Material
Three postal workers were treated at a local hospital after coming into contact with a package and breaking out into a rash. The Postal Service has not commented on what the hazardous material was but they have noted that the public was not in danger.
February 5th, 2018 – Year End Report Shows Construction Deaths Rose In New York
A New York Committee for Occupational Safety & Health has released a report which showed that a total of 71 workers died in construction-related accidents in 2016. This is the highest number of deaths in that particular industry since 2002 and an upsetting increase given how city officials have been working hard to put pressure on employers who choose to continue unsafe workplace practices.
December 7, 2017 – At Least 6 People Injured In Car Accident Near World Trade Center
A car accident in Lower Manhattan has left at least six injured. According to reports, the incident took place at approximately 1:20 p.m. on Thursday, December 7th, when two vehicles crashed at the intersection of Broadway and Liberty Street near the World Trade Center complex. Witnesses say that it was a Lincoln Town Car that collided with a Ford Explorer SUV which then struck a bicycle rider. Additionally, reports from the NYPD state that the Lincoln Town Car continued along Liberty Street for several hundred feet before ultimately crashing into the back of another vehicle and coming to a stop.
November 19, 2017 – Multiple Construction Workers Suffer Injuries After Scaffold Collapses On Lower Manhattan Job Site
At least five construction workers were reportedly injured  when a scaffold collapsed on a job site located in Lower Manhattan. According to reports, the construction accident happened around noon on Sunday, November 19th, when scaffolding collapsed on a construction site located at the corner of Prince Street and Broadway near the Prince Street subway station.
Multiple workers were trapped under the debris of large wooden planks and pieces of metal before being rescued by members of the FDNY who arrived on the scene. Officials say that strong winds of up to 40 mph were reported earlier in the day and are to blame for the scaffold collapsing.
Upcoming Local Community Events For Injured Accident Victims
Can I File A Personal Injury Lawsuit?
Date/Time: April 16th, 2020, 6:30pm
We will be hosting a live webinar for injured accident victims in New York. The event will cover general information about personal injury law and will aim to answer some of the most common questions from the local community with regard to personal injury lawsuits. Our accident attorneys in Manhattan will begin by explaining the history of personal injury law as well as different types of litigation. As an interactive event, the lawyers will also take time to answer questions from the community and those attending the online webinar. If you were injured in an accident and believe that you may be eligible to recover compensation for your injuries in a personal injury lawsuit then this event is for you. The event will be streamed via Google Hangout and those interested in participating in the event can register by sending an email to
[email protected]
You can also visit our page to learn more about the upcoming
personal injury events
being held in the local community.
Important Statistic & Facts About New York City
Based proudly in New York City, the lawyers at Banville Law represent injury victims throughout the state. Led by Laurence Banville, Esq., our team of personal injury attorneys is dedicated to protecting the rights of residents who have been harmed through no fault of their own.
While securing fair and adequate compensation for the victims of negligence is our priority, we're always looking for fascinating ways to put the home that we love in perspective.
We put together this free infographic to get a "big picture" look at New York's population. Comparing NYC to America's other major cities, we've also included details on how the city was affected by the recession and the long recovery afterwards.
Want to dig deeper? We've made infographics for each borough, along with the State as a whole. Follow the links to learn more about where you live:
New York City: Population Facts & Statistics
New York City is America's most populous urban area, and the 24th largest urban population in the world.
But even with more than 8.406 million residents crammed into only 469 square miles, we're not the most densely populated. That dubious honor goes to Union City, New Jersey, just 20 minutes north on the Hudson.
More town than city, Union's 66,455 residents live within an area that spans less than 20 square miles. That's 51,810 people per square mile, compared to New York City's 26,403. Imagine doubling the amount of people you see in a day. Feel claustrophobic yet?
Population Compared To Other Major US Cities
New York's population is more than double that of its closest competitor, Los Angeles. Despite the fact that LA is more than 500 square miles, it has only 3.884 million inhabitants.
Here's how New York City stacks up against America's other largest cities:
Chicago, coming in at only 234 square miles, has 2.719 million residents.
Houston, a whopping 627 square miles, has 2.196 million people call it home.
Philadelphia, a scant 142.6 square miles, is home to 1.5 million.
Phoenix has 1.5 million residents, too, but sprawls with 517 square miles of total land area.
San Antonio, home to 1.4 million, comes in at 465 square miles.
Population Lost During The Recession
As with most American cities, New York City's population has grown steadily over time. But the recession of 2009 forced many to leave their homes in search of job opportunities elsewhere. Compared to other major urban areas, New York lost less than most.
NYC lost 2.41% of its total population between 2009 and 2010. Chicago lost 5.37%, while Houston saw 6.86% escape rising housing costs. Phoenix was hit particularly hard. More than 9% of its once-robust arts community sought work outside the central Arizona city.
Unemployment, Then & Now
While unemployment was high everywhere at this time, New York's rate was actually third lowest out of America's seven largest cities.
Unemployment peaked across the country in January of 2010. In New York, 10.5% of the city's residents were out of work. Compared to 14.1% in LA, 12.9% in Chicago, 11.2% in Philadelphia and 12% in Phoenix, we weathered the storm surprisingly well.
Our recovery has been strong, too. According to the New York Times, the unemployment rate had fallen to 6.4% by the end of 2014. In Los Angeles, it's still up around 9.4%. The United States as a whole is down to 5.6%.
Housing Prices
With the recession's worst damage dealt, residents new and old flooded New York again, raising housing costs to historic levels.
The median one bedroom apartment in New York City is the second most expensive in the country, at $3,000 per month. Famously expensive San Francisco comes in first, where a one room apartment costs $3,370 a month.
LA, the nation's sixth most expensive place to live, is almost half as much. A one bedroom will cost you $1,700 in the City of Angels.
Median Income
Income, on the other hand, hasn't kept pace.
In 2004, the median household in New York City made $48,617. By 2012, the sum had only increased to $50,711. If pay raises had kept up with inflation, it would have amounted to $59,090.
The US Census Bureau's estimate for 2013 saw another increase, to $52,259. But that's still well below the state itself, where the median household made $58,003.
Income Distribution
In New York City, long a bastion of income inequality, the richest 20% of residents pulled in more than 50% of all the money earned in 2010. Here's how the rest of New York makes out:
7.2% of residents make less than $10,000
5.4% of residents make between $10,000 and $14,999
10.7% of residents make between $15,000 and $24,999
10.4% of residents make between $25,000 and $34,999
13.7% of residents make between $35,000 and $49,999
18.2% of residents make between $50,000 and $74,999
12.2% of residents make between $75,000 and $99,999
12.8% of residents make between $100,000 and $149,999
4.8% of residents make between $150,000 and $199,999
4.6% of residents make $200,000 or more
Despite the past decade's troubles, we believe that New York City remains America's greatest place to live and work. Culturally vibrant and incredibly diverse, there's no where we'd rather be.